Velumailu Siddha medical College is an outstanding institution imparting high quality education in siddha since 2001.This prestigious college conduct a course leading to award a Bachelor 's degree in siddha medicine and surgery (BSMS) . This five and half years course including one year house-surgency  is  recognized by  Department of AYUSH . Govt of Indian medicine (CCIM) and  affiliated to the Tamilnadu  Dr.M.G.R. Medical  University , Chennai.
Successful Candidate are eligible to get 'A' Class registration leading them to practice Siddha  anywhere in India. With the Commencement of post graduate Course in Siddha ,This institution is poised to take a giant leap in its stride for accomplishing the goal of providing the best siddha practitioners to the world.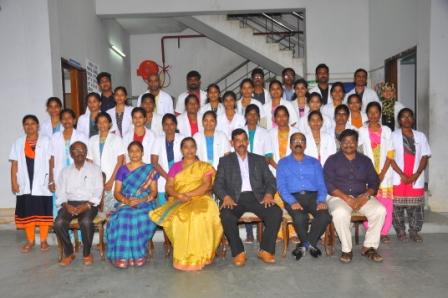 Velumailu  Siddha Medical College is established in the year 2001 under dharma medical research and charitable Trust and situated in a beautiful Verdurous Campus in Sriperumbudur, Newly developing industrial area.
It is situated on the Chennai-Bangalore highway well connected by Airport , Railway Station and peaceful with relaxed atmosphere all conducive to healthy education.
Velumailu Siddha Medical College is functioning in a separate Block Housing Teaching Departments, Laboratories, Museums, Lecture halls, Computerized modem library etc. A full fledged siddha Hospital with 150 beds , Hospital with OPD & IPD facilities , including general words, deluxe &  semi deluxe rooms and with a round clock siddha pharmacy , helps the students to  get practical and clinical training with good clinical exposure.